Éclair Tonnerre
Comments

0
108pages on
this wiki
An anime-only character, 
Éclair Tonnerre 
is the heir to the France-based Grand Tonnerre Group, which in the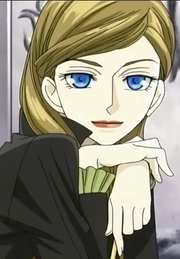 anime she does not immediately recognize 
Haruhi Fujioka
 as a girl; however, she does believe that Haruhi is Tamaki's (male) lover. This leads her to try to drive a wedge between Haruhi and Tamaki, with some degree of success. In the end, Tamaki leaves Éclair in order to save Haruhi's life, but not before leaving a good impression by genuinely smiling at her and thanking her for letting him go. She then asks her driver to head toward the airport without Tamaki, telling her driver how wonderful and pure-hearted Tamaki is because he actually could smile at her after all that she had done. She reveals that Tamaki's mother is now a maid at her house.now employs 
Tamaki
's mother as a servant in Éclair's house. Having heard a great deal about Tamaki from his mother, Éclair develops a kind of crush on him and Tamaki's grandmother (who detested his mother) concocts a scheme to make him Éclair's husband. She tracks down Tamaki in Japan and convinces him to leave the Host Club, offering him a chance to see his mother if he complies with her wishes. She secures noninterference from the Ootori group by arranging for the Grand Tonnerre Group to buy Ootori Medical so as to control Kyoya's father.