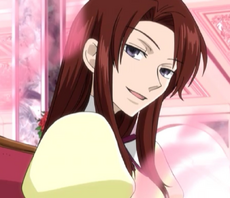 Ayanokoji was a one-time character who appeared in the first episode/chapter of both the manga and anime. She was Tamaki 's regular customer and became very jealous over the attention he gave the "at-the-time" new host, Haruhi. Eventually, she threw Haruhi's belonging out of a window and into a small pond. Ayanokoji requested Haruhi as her host. Haruhi realized that Ayanokoji was jealous and confronted her, Ayanokoji then knocked over the table they were currently sitting and forced Haruhi to land on top of her, calling her a pervert (in the dub, she exclaims that Haruhi assaulted her). At that moment, Hikaru and Kaoru then dumped pitchers of water on her, and Tamaki banished her from the Host Club for throwing Haruhi's belongings out the window (somehow knowing it was her to Haruhi's surprise). She leaves, calling Tamaki an idiot.
She appeared in episode 13 as the Duchess' cook in Haruhi's dream.
Its unknown if she recognized Haruhi as a girl when she first met her (which might explain why she became so jealous of "him" with Tamaki).