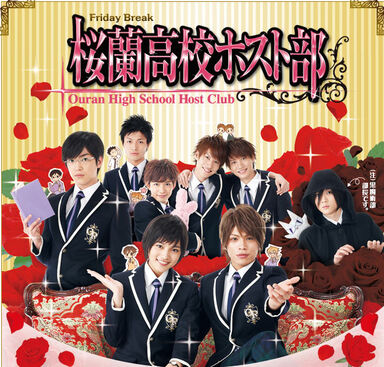 This page is where you can find information related to the television drama series of the popular Ouran High School Host Club series.
Details
Synopsis
The story revolves around a high school girl named Haruhi Fujioka (Kawaguchi) at the prestigious Ouran Academy, who stumbles upon a group of male students who have formed their own club as hosts. Accidentally breaking an antique vase, Haruhi ends up owing the club a vast amount of money, and she ends up posing as a host in order to repay her debt. --Tokyograph
Cast
Host Club
Yamamoto Yusuke as Suou Tamaki
Black Magic Club
Host Club Regulars
Guests
Production Credits
Gallery
Ad blocker interference detected!
Wikia is a free-to-use site that makes money from advertising. We have a modified experience for viewers using ad blockers

Wikia is not accessible if you've made further modifications. Remove the custom ad blocker rule(s) and the page will load as expected.