Kanako Kasugazaki
Comments

0
108pages on
this wiki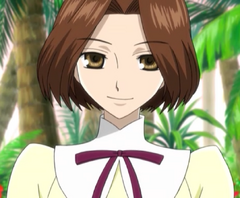 Kanako Kasugazaki is the subject of help for the Host Club in episode 2 of the anime. Initially, Kanako was well-known for changing her hosts every now and then - "host-hopping" - the usual practice being for a girl to designate a permanent host. She only did this to spite her fiancé, Tohru Suzushima, into paying attention to her, but it wasn't successful until Tamaki got wind of their situation and decided to help out. She made a cameo appearance in episode 13 as the dodo from Alice in Wonderland and is seen waiting for her lost love to come back. In the anime, she's the first person Haruhi ever kisses (though by accident) during a ball organized by the Host Club (and where they executed Tamaki's plan to bring the couple together). In the manga, Haruhi kissed a different girl.
Trivia
Kanako Kasugazaki is voiced by Laura Bailey who voices Tohru Honda from fruits basket, Maka from Soul Eater, and Lust from Fullmetal Alchemist.
Kanako Kasugazaki and Tohru Suzushima promised to get married as children when they were looking at tea cups.