Kaoru Hitachiin
Comments

0
107pages on
this wiki
Kaoru Hitachiin

Added by

HikaruHitachiiin


常陸院 馨 Hitachīn Kaoru
Gender
Male
Age

16

School

Ouran Academy

Clubs
Host club
Nationality

Japanese

Birthday
June 9th
Star Sign
Gemini
Blood Type
A
Hair Color
Auburn
Eye Color
Golden Brown
Height
179 cm
Occupation
First-year High School Student
Favorite Subjects
English & Modern Literature
Favorite Foods
Italian food & "Super-spicy" Food
Family

Hikaru Hitachiin(twin brother)
Yuzuha Hitachiin(mother)

Mr. Hitachiin(father)
Kazuha Hitachiin(grand-mother)

Manga Debut
Chapter 1
Anime Debut
Episode 1
Japanese Voice(s)

Kenichi Suzumura (early drama CDs)

Yoshinori Fujita (anime and later drama CDs)

English Voice
Greg Ayres
Actor
Takagi Manpei
Kaoru Hitachiin is the younger Hitachiin twin. He is in class 1A with his older twin brother Hikaru. Even though he is the younger twin, he is much more mature than Hikaru.
Character Outline
Edit
Kaoru is one of the Host club members in the Ouran High School Host Club series and is introduced along with his twin brother, Hikaru, and the rest of the Host Club when Haruhi Fujioka stumbles upon said club in Music Room #3. Kaoru is in class 1A along with his brother Hikaru; making him (and Hikaru) major rivals for Haruhi's time. The customers at the Host Club that request Hikaru and Kaoru appear to like the "brotherly love" that they have. Also a common game to be played at the Host Club is the "Which one is Hikaru?" game.
Appearance
Edit
Kaoru's usual outfit is a periwinkle blazer, white shirt, black pants, and a black tie with a purple stripe (the typical Ouran uniform). He has short, auburn, and somewhat messy hair (in the anime it's red/orange and quite spiky). He has dyed it blue before (and pink soon after to confuse the Host Club customers and try and confuse Haruhi). Kaoru parts his hair to the right, so it looks parted to the left side of the person facing him (Hikaru's is the opposite), and although they mention that they switch parts every day, the parting is consistent unless they are purposely trying to confuse people (which has definitely happened before). He has golden topaz eyes, making him look somewhat devilish, which is fitting since he is the "little devil" type in the Host Club, together with Hikaru. His face is thin and he has pale (not pasty) skin.
Personality
Edit
Both Hikaru and Kaoru are mischievous and playful, but Kaoru is the calmer one of the two. He is also kind, understanding, and often much more mature than Hikaru, despite being the younger brother. When separated from Hikaru, he is easy-going and a nice person to be with, becoming even serious and selfless, contrasting his usually playful attitude. Kaoru has some idea of how to interact with people besides his brother; they both spent so long shutting out the rest of the world before the Host Club, but he learned rather fast to be with other people and respect others' decisions.
Hikaru and Kaoru were born as twins and spent all of their time together, only recently learning to open up and become friends with other people. Their mother is a wealthy fashion designer, and both of them seem to take after her in appearance; they have grown up to be much like her in personality and fashion skills as well. Their father on the other hand manages a computer software company and doesn't seem to resemble them at all. Mr. Hitachiin is referred to as a "ghost" because he is often not noticed. As a child Kaoru grew up never being apart from his brother (one would think because of this he'd be the more emotional of the two) and they both became very codependent on each other.
All through grade school he and his brother refused to accept anyone into their "world" if they couldn't tell the two twins apart as it upset them that no one could honestly do so. They kept to themselves until Tamaki asked them to help him create the Host Club, and though at first they refused, they eventually joined after Tamaki tried relentlessly to tell the two apart (and eventually succeeded). Kaoru is now friends with everyone in the club, and is very protective of them. He can control his emotions rather well, able to stay back if necessary and control his temper, being more reasonable than his brother when they get upset over something.
Relationships
Edit
Until they joined the Host Club, they were solitary and sought comfort and companionship only in each other.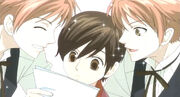 However, it seems that as Hikaru spends more time with Haruhi, Kaoru feels left alone. It is known that Hikaru and Kaoru both liked Haruhi at one point, but Kaoru lets Hikaru try and claim her because he wants his twin to expand his world. As the older Hitachiin twin, Hikaru does worry for Kaoru. It was showed that he [Hikaru] really was worried about Kaoru when he got cut on his cheek. They make Haruhi think that it was another "brotherly love" act, but later Hikaru again asks Kaoru not to scare him like that once alone in their shared bedroom.
Their brotherly relationship is shown to be strong throughout the whole series. However, as it progresses, each twin tries to look for more independence; Kaoru was apparently the one who wanted to start it but Hikaru got the message sooner than Kaoru thought, and Hikaru ended up being the one to actually start the process by changing his hair color (in the manga) to gray ash, so that everyone can tell them apart. Kaoru was shocked the next morning that his brother changed his hair color thinking that they might have to finally seperate paths but Hikaru said to him that having a twin is a blessing that not everyone has because while everyone gets to face all their problem on their own while they can face it together. Therefore, the twins expanded their worlds without separating.
Although Kaoru used to look down on Haruhi, he eventually developed feelings for her, but also realizes that Hikaru shares the same feelings. Though hesitant at first, he lets go of Haruhi and helps Hikaru win her heart since although he loves Haruhi, he loves his brother and their relationship more.
He once told her:
Kaoru: We like the same things. And we're fine if there are two of something. But... what if there was only one? Then what would we do?"
He also hints at it again, when remarking to Haruhi that he will let Hikaru have the cookies instead of himself:
Kaoru: Well, it can't be helped. I'll let Hikaru have it.
Haruhi: Why? You like it, Kaoru...
Kaoru: Eh? Sure I like it, but Hikaru also likes it.
Haruhi didn't realize that Kaoru was indeed talking about the twins' relationship with her, as opposed to actual cookies. She commented that she didn't think Hikaru would be happy that Kaoru would be doing something like that for him.
A while later, when Kaoru was talking to Honey, Honey said, "Kao-chan, are you in love with Haru-chan?" Kaoru proceeds to tell him that he realizes that he does love Haruhi, but he's trying to hide it, because he likes the way the host club currently is, and that Hikaru is also very important to him. He says that somehow, in hiding his feelings, his self-confidence in loving Haruhi has died.
After an argument with Hikaru, Kaoru took Haruhi out for a date in which he confessed his love to her kissing her cheek, however he also tells her he won't be pursuing Haruhi to give his brother a chance at winning her heart, since he loves his brother dearly and knows it is for the best if it was Hikaru who had a chance with Haruhi.
Haruhi is also one of the few people to tell Hikaru and Kaoru apart, one of the main reasons for them to develop feelings for her.
Kaoru loves to play childish jokes on Tamaki and to annoy him. He finds it especially amusing to make fun of his desire to be called King. He knows that Tamaki loves Haruhi too and uses this as a strong annoying gag by flirting with her (with Hikaru always by his side doing the same), thus manipulating Tamaki very easily, and is continuously calling Tamaki an idiot. In one episode, he and Hikaru were talking to Haruhi about getting married and having a honeymoon, just to get Tamaki to join a water gun fight.
On the other hand, there have been examples where he truly seems to care for Tamaki. Like they say: "Roger!"or "My Lord!' but they still tease Tamaki very often. Tamaki sometimes calls them "shady twins".
Honey is the one who Kaoru ran to after telling Hikaru that Hikaru loved Haruhi. Kaoru obviously respects him and knows the blond is way more intelligent and mature than he lets on, for he was the one who realized first how feelings in the Host Club changed since Haruhi arrived.
They don't talk much on the show, but you can tell that Kaoru and Honey are definitely good friends. In the manga, Kaoru always goes to Honey-Senpai's house when he has a problem with Haruhi or Hikaru (or both), then Honey-Senpai gives him advices which turn out to be more helpful than he would expect. Honey also has showed to worry about Kaoru's feelings since he went to 'cheer him up' after he thought his heart had been broken, only to find Kaoru handling things quite calmly.
Kyoya and Kaoru have shown to be able to understand each other rather well, each being the most mature and intelligent half in their best friends relationships (Tamaki and Hikaru being each other's half respectively). During the times in which Kyoya would need help that requires some thought and research he instantly would ask Kaoru for it.
During the sports festival, Kaoru was his second hand, researching on the Red Team members' abilities and helping him pick the best candidates to confront them from the White Team. In the latest chapters on investigating on Tamaki's mother, Kaoru and Kyoya were the first ones to gather information and talk silently about the business, keeping it secret from everyone else in the Host Club.
Kyoya also shows his trust in Kaoru during those times, being able to talk about some of his feelings towards the situation at hand while he would normally keep everything to himself, knowing fully well the younger teen won't tell anyone about it.
They are referred as the 'Little Brother Team' by Hikaru when Hikaru was jealous at the fact that Kaoru and Kyoya had been spending more time with each other, saying it to Mori and Honey, that he had the older brother pride as he was the one suggesting they seperate but still stick together. Hikaru calls himself, Mori, and Honey as the 'Older Brother Team'.
Takashi, like Honey, was aware of Kaoru and Hikaru's problems when the former realized both him and his twin had feelings for Haruhi. While it was Hikaru who would go to Mori when he needed to be away from his brother, the senior would also see the situation from Kaoru's view when he happened to be in any of the meetings his cousin and the younger Hitachiin held.
While they didn't have much communication, Kaoru respects Mori just like he does Honey and would listen to any advice Takashi gave him for any situation.
It has been argued that the relationship extends further than a mutual respect. Both are the quieter counterpart in their respective pair (Hikaru&Kaoru and Hunny&Mori), and both are more intense.
Kaoru has an older twin brother Hikaru. They share a close relationship. When they're hosting, Kaoru plays along with the "brotherly love" act and often says or does cute things he normally wouldn't say or do. For example:
Hikaru: Kaoru is such a crybaby!
Kaoru: (blushing) Am not!
Hikaru: (smirks) Oh?
(He tilts Kaoru's chin up and pulls his face closer)
Hikaru: What about when we play our punishment games at home? Then what do you do?
Kaoru: (blushing and almost whispering) That's because you...
The 'Which One Is Hikaru game' is a game the twins usually play with their customers consist of them using identical caps to hide their hair (since their hairstyle reveal which one is Hikaru and which one is Kaoru) and "shuffling" before then asking the costumers, "Which one of us is Hikaru?"
In episode five, it is revealed that fighting or arguing works just as well, as when ever the two start arguing their clients squeal with delight.
His mother is a famous fashion designer with her own company. Both twins seem to take after her in many ways, including their fashion skills, their appearance and their personality (although they jokingly said once that they fear for their future since they're shy like their father). She also has the tendency of confusing them. At first they were upset by that, but later on they let her call them whatever she wanted, knowing that no matter how many times they told her who was who, she would never recognize them. In the manga it was revealed she does recognize them but keeps pretending to not do so as a personal game.
His father runs a computer software company. He seems to be more down-to-earth than his wife and children and is often hidden in the shadows, being completely invisible to everyone else around him, even his own family; apparently the same happens with his father-in-law who is always hidden in the shadows near his wife but never seen. Haruhi even mistook him for Mrs. Hitachiin's escort. He is one of the few people who can tell which twin is which -- even with them having their back to him. He gives advice to his children when he sees it necessary and it shows he cares about the twins' feelings more than he lets on.
Kaoru's grandmother is also a designer, but she works on flower designs to the point of her own hair-do being full of flowers in an elegant and quite curious design, the reason for Hikaru and Kaoru making fun of her sometimes. As kids they tried to make their own design, drawing a flower design of their own which their grandmother said she would use it as toilet paper (her rudeness causing the twins to think of her as a witch who doesn't know how to be nice to people), nowadays -10 years later- she still keeps the drawing with her and watching an amazing real flower design made by the twins, she says they are very talented. She drives around in a motorcycle.
They also had a younger sister named Ageha who is born after the end of the series. She likes butterflies and flowers but to the twins' astonishment, she has a personality much like their own when they were children. She is also attached to Tamaki, much to the twins' displeasure.
His birthday is June 9th, making him a Gemini (the sign of the twins).
He is 5'10" (175cm). Every school check-up, he and Hikaru have grown the exact same amount.
He is Blood Type A.
There are three ways to tell the twins apart. One way is the parting of their hair, in which Kaoru is at the left and Hikaru is at the right. Kaoru's voice is also ever so slightly higher and raspier, which can be heard when they speak separately. Another way is whenever they were seen together, Hikaru is mostly on the right side and Kaoru's on the left (in the audience's view).
A running gag is that Kaoru is described as often having nightmares that cause him to practically leap out of bed.
He is the uke, neko or catcher in the twins' relationship.
He is the mature one of the two despite being the youngest.
He is 10% less evil than Hikaru.
He has a character song along with Hikaru called "Bokura no Love Style"
Honey calls him "Kao-chan".
It is revealed in "This Is Our Ouran Fair" that Hikaru is a talented equestrian, having driven the whole host club through the school campus in a horse-drawn carrige.
His cell phone's ringtone is the opening theme for Ouran high School host Club, versus Hikaru's, which is the closing theme.
Both Kaoru and Hikaru have one maid each, it just so happens that their maids are twins that look exactly like eachother, too.
The Hitachiin Twins have the same birthday as the Kurusu Twins from Uta no Prince-Sama.
He wore in episode 22 along with the others, Tamaki Suoh not, a forehead protector. Just like the ninjas in the popular anime Naruto and Naruto Shippuden do. The Host Club were actually cosplaying as the Shinsengumi, a private police force of samurai serving under the Bakufu back in the Edo to Meiji Eras of Japan, the forehead protectors were protective headbands members wore during battle, along with a blue and white haori
Kaoru's mobile like some of the other hosts is orange to match his rose colour.
He has been compared by many people to George Weasley from the Harry Potter series.
Hikaru's seiyuu in the anime was originally Kaoru's in the Drama CDs
(To Hikaru) "I hate you so much I bought this, Belzenef the curse doll!"
(To Hikaru) "I'm going to complete the curse, Hikaru, from this day forward you are going to experience nothing but misfortune and sorrow."
(To Hikaru) "Feelings you have for each other will not be known unless you voice them."
(To Mori) "Hey, are you alright?"
(With Hikaru) "Commoners' supermarket, commoners' supermarket!"
(To and with Hikaru) "YOUR MOMMA WEARS TOO MUCH MAKEUP!"
(In thought) "Still, one day Hikaru will realize he wants to take the next step on his own. When that happens, I don't know what I'll do. . ."