Mitsukuni Haninozuka (Honey)
Comments

0
107pages on
this wiki
Hani

埴之塚 光邦 Haninozuka Mitsukuni
Gender
Male
Age

18

School
Ouran Academy
Clubs
Ouran Host Club
Nationality
Japanese
Birthday
February 29th
Star Sign
Pisces
Blood Type
AB
Hair Color
Blonde
Eye Color
Brown
Occupation
Third-year High School Student

(Graduates in Chapter 72)

Favorite Subjects
English

Favorite Foods

Cake, candy & strawberries. Has unexpected cravings for spicy things. (Does not like carrots.)

Manga Debut
Chapter 1
Anime Debut
Episode 1

Japanese Voice(s)

Ikue Ōtani (early drama CDs)

Ayaka Saitō (anime and later drama CDs)

English Voice
Luci Christian
Actor

Chiba Yudai

Nishida Shogo (Smaller Form)

Family

Haninozuka Yorihisa (Father)

Reiko Kanazuki (Girlfriend, Wife)







Yasuchika Haninozuka (Brother)







Takashi Morinozuka (Cousin)







Satoshi Morinozuka (Cousin)







Akira Morinozuka (Uncle)
Mitsukuni "Hani" Haninozuka is the "loli-shota"- an older boy who likes cute things. When his role is threatened he tries his best to be even cuter. As such, he is usually happy-go-lucky and smiling. He's optimistic and likes to eat anything sweet, especially cake. His childish appearance makes him look like he should still be in an Elementary School, however he is the oldest host. He is also never seen without his best friend and cousin, Mori. He often is riding on Mori's shoulders and almost always is carrying his stuffed rabbit, Usa-Chan. (Also called Bun-Bun, or Bun-Chan.)
Personality
Edit
He appears to be dimwitted, but actually is very smart, and is able to see that Tamaki, Hikaru, and Kaoru have feelings for Haruhi. Even though he is usually happy, he can be angered somewhat easily, and can be very intimidating to the other hosts. He has a blood type AB, the same as Kyoya's, which causes him to be very temperamental when awoken early in the morning or from a nap. Also, since he has Type AB blood, most of the host club members (with the exception of Mori and Haruhi), believe Honey must have a split personality - a "Dark" Honey, and a "Nice" Honey. This is shown to be true, though less dramatic than expressed by The Hitachiin brothers and Tamaki. Honey is the only one of the host club members who addresses the other hosts using "chan" and abbreviating their names (ex: Haru-Chan for Haruhi, Tama-Chan for Tamaki, Hika-Chan for Hikaru, Kao-Chan for Kaoru.) He is very good at social studies, and is at the top of his class. However, he gets sad or upset easily if somebody doesn't like Usa-Chan or cake. He thinks Cake will solve all the issues in the world. He can also be very kind, sweet, and sometimes he helps people figure out their feelings. He loves to help others figure out who they are, because he used to have trouble figuring it out himself, until Tamaki told him it was okay for him to like sweet things.
Appearance
Edit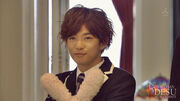 Honey is quite short for his age with a very childish face (This is explained by his birthday being on leap year, February 29th, so it only comes once every 4 years making him "4" years old). He used to be 148cm,
In extra 2011 omake, he grows to be 180cm tall in Haruhi's dream
He has short blonde hair, pale skin and is usually seen with the standard school uniform. He is also seen mainly with his stuffed rabbit Usa-chan (BunBun).
He is rarely seen without Takashi "Mori" Morinozuka. He is almost always on Mori's shoulder's. Honey is also seen with flowers around him in the manga. The only time there is not any is when he is upset.
The Haninozuka family have excelled in martial arts for generations. So all members of this family are martial arts champions. Upon greeting each other, it is tradition for family members to fight, as a reminder to always keep your guard up. It also seems that height is not an important factor in the Haninozuka Martial Art as it is mentioned that "There are more small people in the [Haninozuka] family than not".
Mitsukuni is said to be the best martial arts champion in Japan, and by so much that he exceeded his father, Yorihisa, in being the best and was told not to fight, all-out, in public in risk of making Japan look like it had a secret weapon as explained by Tamaki Suoh in the anime episode "Chika's "Down with the Honey" Declaration".
It is mentioned in "Honey's Three Bitter Days" that Honey's grandmother is dead, which is possibly why he loves his hand-made stuffed rabbit Usa-chan so much.
One of Mitsukuni's relatives that was introduced is Yasuchika (or Chika for short), his younger brother. Chika in the beginning seems to be the polar opposite of Honey; he looks older, he's quite tall, he hates sweets, he hates cute things and he seems to hate Honey and even thinks of him as an alien using Usa-chan as a device to contact the mother ship. It was revealed that Chika actually cares deeply for his brother and respects his martial arts skills though he is disgusted with his brother obssesion with sweets after seeing him eat three whole cakes at once.
Later, Mori reveals that he believes that "They're doing fine as brothers". It also seems that Chika is more like Honey than he originally let on. When chicks start flying around him, he initially gets excited and he also cries often.
It is mentioned that Mori and Honey are cousins. The Morinozuka family has served the Haninozuka family for generations, until the two lines were joined by marriage. Takashi (Mori) has always looked after Mitsukuni, even when they were young children.
Relationships
Edit
Though Honey's feelings towards Haruhi are never directly addressed, it is easy to see that they are not romantic, but very friendly or family-like. Honey is often seen calling Haruhi "cute", and he likes cute things, such as Usa-Chan (BunBun) and Cake. During the first few chapters, he is always grabbing Haruhi's arm and calling her "Haru-Chan" and asking her to have cake, or look at something. Honey is the second person to realize Haruhi is a girl, after Kyoya, who knew all along. Honey and Haruhi have a very older sister - younger brother relationship, and Honey sometimes helps Haruhi figure out her (or others) feelings. The two have a generally good relationship, though not very explored.
Honey likes and cares about Tamaki very much, seeing as how when Tamaki first invited Honey and Mori into the Host Club, he was the one to tell Honey that it was okay to like sweet and cute things, as long as it was what made him happy. Honey, who had been wanting to embrace that part of himself for quite a while, was thankful and touched that Tamaki told him it was okay, seeing as how he was the first to do so. Honey is also the first to speak up and defend Tamaki against the newspaper club, who believes Tamaki is wielding his family's power over the rest of the club. Honey, in reply to this, says, "Tama-Chan would never do that. We all like Tamaki. That's why we're in host club in the first place." (Or somehting along those lines.) It may appear that Honey feels a little indebted towards Tamaki, as he was the one who allowed him to break free and become the lolita-boy he is today.
Reiko Kanazuki first developed romantic feelings towards Honey when she tripped over Usa-Chan in the hallway and he offered her his hand, the first nice thing anybody had done for her in a while. She then became obsessed with "cursing" Honey and casting cursers and spells on him to "capture his soul" as she believes he has captured her. At the beginning, Honey is a bit scared, but as Kanazuki starts following him around and spending more time with him, he realizes that Kanazuki casting spells and curses is her own way of communicating, as she is not very sociable and doesn't know how to express her feelings otherwise. Honey, before discovering this, had never been rude or mean to Kanazuki, but always been polite and nice, causing her to like him even more. He also realizes that Kanazuki doesn't have many friends, which may add to her inabilty to communicate any other way. He explaisn to Kanazuki, who has an obvious crush on him, that the easier way to express her feelings and "capture anothers soul" is by talking to them, and that if she spoke more about her likes and dislikes, he would want to know more about her. He says he likes people who put in the effort, and so Kanazuki starts to attend Host Club and the two get to know each other better. No official romantic events have happened between the two, as they are polar opposites, but their relationship escalated when Honey realized they had something in common - they both have a somewhat "unhealthy" hobby that they like too much to give up, and need to find a way to manage better (Kanazuki's being black magic, Honey's being cake and sweets.). They are married in the future, as seen in an special chapter in the manga, being the first member of the host club to do so.
Takashi and Honey are always together, and Honey is the only one who calls Mori by his first name, Takashi, and vice versa. Due to a marriage in their family, the two are cousins, but many generations before this marriage, the Morinozuka household served the Haninozuka household, and so despite the marriage, the two continue to be a team. Takashi is very protective of Honey, and Honey seems to really like and appreciate Takashi - he can be seen riding on his shoulders almost constantly, interacting with him constantly, or even ruffling his hair once in a while. Takashi is very loyal to Honey himself, rather than just the family's serving each other, and Takashi told Honey that he should always do what makes him happy. Honey thinks of Mori as a best friend and older brother, and appeals to him when he wants to get something. The two depend on each other and like to have karate-fights together, most of which Honey wins. Though not shown in too much detail or too directly, it is obvious the two are very close. Honey is the least mature in the pair, Mori often being the voice of reason.
Honey's bunny is called Bun-Bun or Usa-chan in the Japanese version.
His nickname is most commonly spelled by fans as 'Honey' or 'Hunny'
It appears that when Honey wakes up, he is similar to Kyoya, who is cranky, irritable, and known as the Low Blood Pressure Demon Lord. Honey-senpai is known as the Low Blood Pressure Beast. Unlike Kyoya, however, Honey is an early-riser and doesn't sleep late.
His blood type is AB - this (according to Tamaki and many superstitions) gives him a split personality. This may be true, since he is like a beast when fighting or when he is upset, but so cute and sweet otherwise. Kyoya Ootori also has this blood type.
In Chapter 72, Honey graduates from Ouran.
He greatly resembles Momiji Sohma from Fruit Basket. They both like bunnies. They are both much older than they appear. They are both blonde and both short. Also, Honey and Momiji are voiced by the same seiyu, Ayaka Saito.
Honey has a Character Song named "Doki Doki Waku Waku".
It is revealed at the end of the series that Kyoya gave Honey some "special vitamins" that prevented him from growing taller, so that he could keep the loli-shota role of the Host Club. Kyoya said that if Honey were average height, then there would be two Tamakis, which wouldn't be good for business. Honey grew to normal size after the group left to study abroad in Boston. But this turned out to be a dream of Haruhi, Kyoya asks Haruhi if she really thinks that he is that evil.
In the manga, nearly everytime Honey speaks, there are flowers around his speech-bubble. This is the same for the anime, though the flowers are placed around his character and during serious moments they disappear.
He is the only one who calls Mori by his first name; Takashi.
Honey used to be his class's Karate instructor, until he joined the host club.
It is custom in his family to greet any other member of the family with a fight.
In April 2011, a short story special chapter in LaLa Magazine was written. Bisco Hatori wrote what happens to each character a few years into the future. It was revealed that Hunny eventually married Reiko Kanazuki.
He greatly dislikes Tamaki's grandmother for the way she treats Tamaki.
He was the second to find out that Haruhi was a girl due to her saying that Usa-chan was cute and at how she responded when first seeing Usa-chan.
Honey is 148cm tall (4'10) putting him in the classification of dwarfism by medical standards. However, he does not possess other physical features that would make him a dwarf at his age, so if he were a real person he would appear not as a dwarf but just as a child would.
He wore in episode 22 along with the others, Tamaki Suoh not, a forehead protector. Just like the ninjas in the popular anime Naruto and Naruto Shippuden do.
His seiyuu in the drama CDs, Ikue Otani, voices Pikachu in the Pokemon franchise.
Honey's mobile like some of the other hosts is pink to match his rose colour.
(To Mori) "I'm sorry! I'm sorry, Takashi! I won't forget to brush my teeth again! I won't forget!..."
(To Yasuchika)"Nobody can change who I am and I'm very grateful to Tama-chan and all of the Host Club because they show me that. So...lets settle this like men in a Haninozuka style, Yasuchika"
(To the twins) "We've had enough of this! You're both to blame for this fight! Hika-chan and Kao-chan, I want you to make up and go halfsies on this cake, okay? But, I want to have a piece too, so I guess we're gonna have to go thirdsies. We're not going to be able to split the strawberry on top though. What should we do? Maybe I should just take it. After all, strawberries are my favorite. Oh, I forgot to ask, Hika-chan, Kao-chan, do you like strawberries?"