Home
Talk

14
129pages on
this wiki
File:Ouranabout2.png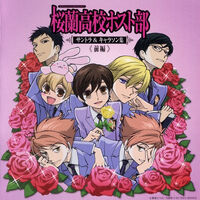 The Ouran Host Club (also known as the Ouran High School Host Club) is an independently functioning high school club that was founded by Tamaki Suoh, the self declared and unquestioned leader of the club. The club is located in Music Room #3 of the high school grade level building of Ouran Academy. Although she is not as rich as the others, Haruhi, the main character, strives on her grades and recieves a scholarship to attend this prestigious school. But another thing that our female lead lacks besides money is a feminine sense of style, because she is ultimately able to fool many of peers into thinking she is a boy.
Prior to the establishment of the club, many of its members were considered outcasts. However, as time progressed, the members of the club skyrocketed in terms of popularity among their peers (which consists mostly of girls). The club was created with the sole purpose and vow of entertaining and pleasing all who visit the club regardless of the person's background or preferences. The Host Club usually holds a fundraiser each season of the school year for publicity. Due to the fact that the Host Club is an independently managed club, all profits made go to the club's budget for future club events as well as practical uses.
File:Ourangallery.png
File:Ouranpoll.png
Who is your favorite member of Ouran High School Host Club?