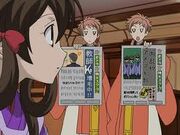 Want to make a positive contribution?  First check out the
Style Manual
to see how things are laid out.  Then check out the pages listed below and see what needs improving.  Never edited a wiki article before?  Start with something Lowest Priority to learn the ropes.  Have questions?  Just ask for help
In the Salon
.  Someone will assist you.  The goal is to make every visitor happy while maintaining a wiki that looks good and serves as an accurate source of information about our favorite
bishonen
, their favorite girl and the rest of the people, places and things that make the world of Ouran High School Host Club so special worldwide.
High Priority
Manga Volumes and Chapters - Summaries needed, especially for those episodes mentioned in other articles, appearing now as red links.
Average Priority
Listing the types of templates used on each page in the right side rail.
Verbatim Transcripts for any of the three main formats (only Manga Ch01 currently done).
Adding new images not already in use on a wiki page.
Low Priority
Reviewing pages for typos and other minor gaffes.
Connecting red links to wiki pages (if a page exists).
Ad blocker interference detected!
Wikia is a free-to-use site that makes money from advertising. We have a modified experience for viewers using ad blockers

Wikia is not accessible if you've made further modifications. Remove the custom ad blocker rule(s) and the page will load as expected.