Reiko Kanazuki
Comments

6
142pages on
this wiki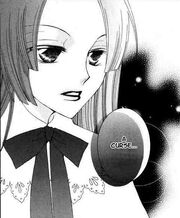 Reiko Kanazuki is a Class 1-D student at Ouran Academy, and a member of the Black Magic Club. She has a crush on Honey, but she does not see it as stealing her heart, she thinks that he stole her soul. For that reason, she wants to curse him. However, due to her shyness (and spooky personality), the Host Club initially has the wrong impression that she is out to do Honey harm. After some words from Honey, Reiko decides to try to overcome her shyness and back off on the curses a little. From then on, she becomes a regular at the Host Club.
In Chapter 71 of the manga, Reiko is seen eating cake in the cafeteria with Hunny outside of Host Club hours, hinting at a continued relationship which is later confirmed. In April 2011, a short story special chapter in LaLa Magazine was written. Bisco Hatori wrote what happens to each character a few years into the future. It was revealed the Reiko and Hunny eventually got married.
She's the second member of the Black Magic Club to be named, after Nekozawa.
Reiko is introduced in Chapter 41 of the manga; she does not appear in the anime.