Takashi Morinozuka (Mori)
Comments

0
108pages on
this wiki
Takashi Morinozuka

銛之塚 崇 Morinozuka Takashi
Gender
Male
Age

18

School

Ouran Academy

Clubs
Ouran Host Club
Nationality
Japanese
Birthday
May 5th
Star Sign
Taurus
Blood Type
O
Hair Color
Black
Eye Color
Onyx Black
Occupation
Third-year High School Student

(Graduates in Chapter 72)

Favorite Subjects
Geography, Japanese, and History
Favorite Foods
Oriental Foods
Manga Debut
Chapter 1
Anime Debut
Episode 1

Japanese Voice(s)


































English Voice

Kenjirō Tsuda (early drama CDs)

Daisuke Kirii (anime and later drama CDs)

















Travis Willingham

Actor
Nakamura Masaya
Family

Akira Morinozuka (Father)










Satoshi Morinozuka (Brother)

















Mitsukuni Haninozuka (Cousin)

















Yasuchika Haninozuka (Cousin)

















Haninozuka Yorihisa (Uncle)






Takashi Morinozuka (Mori) is a high school student of Ouran Academy. He is a host/member of the Ouran Host Club. As a host he is considered the "Badass" or "Wild Type" of the group. He is almost never seen without the company of Mitsukuni Haninozuka who is often seen hanging from Mori's back. Mori is often considered a "silent type" and considers Honey as both his friend and "spokesperson". The Morinozuka family had protected and served the Haninozuka family for many generations but marriage joined the families two generations ago, breaking the master-servant tradition. Despite that, Mori still faithfully protects Honey and attends to his wishes. His protectiveness extends to his classmates and fellow host club members, gaining him a certain level of respect. However, when he is tired, he becomes uncharacteristically talkative and flirtatious. Mori's hobbies include kendo and karate. He also has a peculiar connection with animals as seen when he takes in a stray tanuki as his pet. In the manga, it is pointed out that Mori has a "fetish for small things" (Honey, Haruhi, etc.). It is mentioned that Mori likes seashells. He is the most benevolent of the hosts. He is also really shy but he is still pretty "badass"
Personality
Edit
Takashi is known as the silent type. He doesn't say anything unless it is need saying, seen in various different scenarios. However, most of his speech only appears in the manga, and more so later on in the series. He is very wise, and gives advice to Hikaru when it is needed. 
He is loyal and protective of his smaller cousin, as well as the female host. When she cries out for him to help her, he does so without a second thought. A lot of people who only have watched the anime will say that Takashi is unable to go against anything that Mitsukuni says. Reading the manga, it is clear that Takashi is willing to seperate from Mitsukuni, since he is able to protect himself.
In chapter 51 of the manga, Hikaru stays the night at Takashi's house. While there it is shown that Takashi can be rather blunt when he needs to be. Takashi is a more complex character than people give him credit for.
Appearance
Edit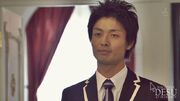 Takashi is the tallest character in the Host Club. Reaching 6'2. He has dark black hair that is usually styled in a spiky, or wild, way. His eyes are onyx black, and he is often noted as having the tannest/darkest skin tone out of all the characters.  When at Ouran, or the Host Club, he wears the same blazer as the rest of the characters, but he never has it buttoned up. He nearly always seen with Mitsukuni perched on his shoulders or at his side.
It is no secret that Mitsukuni and Takashi are incredibly close; with most of the scenes they appear in, they are put together or interacting in one way or another. Takashi is naturally very protective of Mitsukuni, since they are cousins and as such, is the only one to call him by name ("Mitsukuni") and vice versa. 
Takashi feels responsible for each thing that could (and would) go wrong for Mitsukuni. This can be seen when Mitsukuni gets a cavity, and is forced to lay off of sweets. Takashi acts very strict with Mitsukuni, saying that he is not allowed sweets and making sure the boy doesn't have any. However, since he is the one responsible for the cavity, he purposely gets Mitsukuni to hate him as a way of punishing himself.
More can be said of Takashi's supportive nature for Honey, which can be observed often in subtle references and motions, but is not fully seen until Mitsukuni is first joining the Host Club, with Takashi remarking that Tamaki "says I can like cute things and eat lots of cake, too!" Mitsukuni ponders whether or not he should go through with it, provoking Takashi to tell him "You can do what makes you happy," showing that his loyalty lies not in family blood ties but with Mitsukuni himself.
In the manga, before graduation Takashi challenges Mitsukuni to a duel so he can say what is on his mind. Mitsukuni is able to tell what Takashi is hinting at, and goes through with it. Knowing exactly what was on stake. Takashi wins by catching Mitsukuni in mid-air and placing him out of bounds. After winning, he pulls out a list of things that Mitsukuni is required to do in college, one of which is to stop bringing Usa-chan.
Their relationship is shown at the start as very master-servent, but as the manga progresses it can be seen that their relationship is more towards father-son. In which Takashi is protective of Mitsukuni, but wishes for him to do what he wants, and will not follow him for the rest of their lives.
Satoshi is Takashi's younger brother, and is a manga only character. Satoshi looks up to his brother, idolising him and calling him Taka-kun. Satoshi is much different from his older brother, except when Takashi is tired and becomes 'refreshing'. Takashi cares very much for his brother, but unlike others, he isn't afraid to tell Satoshi to stop acting rude or otherwise. There isn't much else that is said of their relationship, besides that which is already stated.
Relationships
Edit
Takashi is hinted to have romantic feelings for Haruhi, but it is never truly explored, unlike her relationships with Kaoru and Hikaru. Regardless, there are several instances where his possible feelings show.
In the first episode of the anime, when Haruhi found herself being hugged too 
tightly by
Tamaki
, she cried out to Takashi for help; he ran to her aid without question. It was this incident which caused him to realize that she was actually a girl, and he blushed.
In Jungle Pool SOS!, when Takashi was heading into the woods to find Honey, Haruhi was worried so she went along, but upon seeing all the snakes and insects she became scared, which provoked Takashi to carry her. This was also the first time he addressed Haruhi by name, which pleased her. Later, when surrounded by members of the Ootori family's police force, one of them attempted to take Haruhi from Takashi by force - which, as it turned out, was an exceptionally dangerous idea. Once recovered, Honey complimented Takashi on his good work in protecting Haruhi, and inquired whether Takashi had been lonely without him; Takashi, his eyes on Haruhi, replied that he wouldn't necessarily say that.
In the episode in which the Host boys visited Haruhi at her home, Takashi gave her all the strawberries off of his own piece of cake, which earned him a delighted smile from her (and sent Tamaki and the twins into throes of despair, asking why they didn't think of that first). Haruhi is the only character, apart from Honey, at whom Takashi is shown to smile more than once.
There was also a point in the back of the first Ouran HSHC manga under his profile, in which it was stated that because of Takashi's nature, it was potential for the two of them to develop romantic feelings for each other.
Hikaru is known to respect Takashi and goes to him for advice. Even staying over at his house in the manga two nights when he and Kaoru were having a fight. He shows genuine concern for Hikaru's feelings, and when Hikaru comes to him the first night, he is blunt to give Hikaru the push he needs to realize his feelings. Takashi listens to Hikaru and gives him advice over what to do. 
Tamaki refers to him as the 'wild type', which is because he tends to act on instinct.
"Mori" is actually a pun for 'Harpoon'. In reality, however, Mori acually means "Forest."
In Chapter 72, he graduates from Ouran, but says that he will return to the Host Club every so often, as will Honey. The two often return, and they will fetch Tamaki for the reunion plan.
He enters jurisprudence, the study and theory of law, in university.
In the later chapters, he raises a chick he names Piyo and also takes in a stray tanuki.
Unlike Honey, who is grouchy when waking in the morning, Mori becomes unnaturally 'refreshing' when he is tired.
Mori shares the same birthday as Deidara from Naruto and Kyoya Hibari from Katekyo Hitman Reborn! As well as Monkey D. Luffy from One Piece!
Mori's name was inspired by the Tahei Mori, an ancient Japanese variation of spear.
Mori has a character song named "Itsumo Soba ni".
In the first fan poll results, Mori was voted the second most popular character.
Mori intends to become a lawyer.
In the live action drama, Mori is seen to be playing the harp, suggesting that he also has musical knowledge and another hobby/interest.
Mori's English voice actor, Travis Willingham, also voices Roy Mustang from Fullmetal Alchemist. Interestingly, Mori strongly resembles a young Roy, having very similar features, and Willingham uses very similar vocal inflections for both characters, which heightens the resemblance. Travis Willingham also voices Toga Yagari from Vampire Knight, Yu Kanda from D Gray man Free (the man with the magic eye) from Soul Eater and Ginko from Mushi-shi
He wore in episode 22 along with the others, with the exception of Tamaki Suoh, a forehead protector. Just like the ninjas in the popular anime Naruto and Naruto Shippuden do.
In episode 22 of the anime, he along with the others were cosplaying as members of the Shinsengumi, but not cosplaying as a certain member. Girls thought he was Yamazaki and other members, but he was most likely dressed as Sanosuke Harada, as he was seen with a spear and Harada was known as the best spear user in the Shinsengumi
(To Honey about Renge's burnt cookies) "Don't eat that, Mitsukuni! It's bad for you!"
"It was my fault. It was my carelessness that led to Mitsukuni's cavity. I forgot to tell him to brush his teeth before napping... twice."
"Mitsukuni, you've got some cream."
(Honey - to the twins) "We've had enough of this! You're both to blame for this fight! Hika-chan and Kao-chan, I want you to make up and go halfsies on this cake, okay? But, I want to have a piece too, so I guess we're gonna have to go thirdsies. We're not going to be able to split the strawberry on top though. What should we do? Maybe I should just take it. After all, strawberries are my favorite. Oh, I forgot to ask, Hika-chan, Kao-chan, do you like strawberries?" (Mori comes to take him away and says) "You're making things worse. Leave them alone."
(To Haruhi, when the club visits her home) "You like strawberries, right? Here, you can have mine.
(Several times during the series) "Yeah."
(To Honey) "Bad idea" (Episode 16)
(About Haruhi) "Fancy tuna." (Episode 3: Beware the Physical Exam!)