Talk:Tamaki Suoh
132pages on
this wiki
Suoh or Suou?
Edit
I've seen both used and I have no idea which it is, but we should decide on one and just use that.
Agreed. Though I will have to do some research and see witch it is. Team Doofenshmirtz Custom sig under construction! 16:54, March 25, 2011 (UTC)
Featured Article
Edit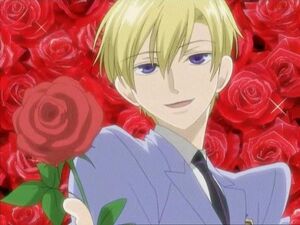 The creator of the host club, Tamaki Suoh
The creator of the Host Club, Tamaki Suoh first comes off as thick-headed and childish, but his true personality is gradually revealed. He is always eager to make new friends and help people, despite his easily wounded ego and short temper. When he started the club, he easily won over Hunny and Mori with his genuinely friendly manner, but had trouble with the cold and hurt Hitachiin twins and Kyoya. Despite this, he considers them his best friends, and, despite their teasing, they think of him the same way
Importance
Edit
We need to add kyoya in his relationship.
Obtw, if you guys are worried about spacing please don't forget to add this code:
< br/ >
(Nana Aoi666 (talk) 11:14, February 27, 2013 (UTC))