The ouran highschool host club characters
Comments

0
108pages on
this wiki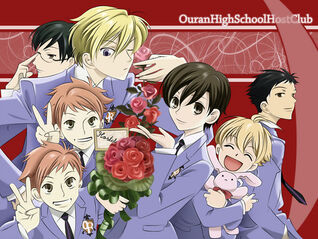 This page is about all the Ouran highschool host club main characters and what i think about them
Haruhi FujiokaEdit
Not my most favourite in the anime but one of my least. For some reason she just annoys me. I did wanted her and hikaru to be together though lol...she's too serious to be tamaki's wife. She's also not that funny. Sorry to all the haruhi fans.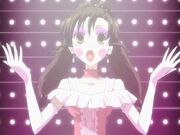 Tamaki SuouEdit
One word...HILARIOUS!!! Most of the things that come out of his mouth is funny lol. I felt sad for him when i saw the last episodes...never knew he had a bad life,just thought he helped others with theirs. I think he has it worst followed by Kyoya.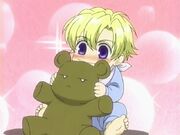 Kyoya OtoriEdit
Never really thought anything much of him just that he had a bad family and i felt sorry for him. I almost thought he was going to rape haruhi lol. I wanted him to be with renge though eventhough she's crazy. I also loved his voice in english dubbed,it sounded smart lol.
Hikaru and Kaoru HitachiinEdit
They were very funnnny. Almost as funny as Tamaki. When i first saw them i thought nothing much but ordinary twins but then they started acting gay,that was disturbing plus funny. Even when i finished watching the anime i still cannot tell which is which. Wonder how haruhi does it??? I think she likes hikaru lol. I loved the part in an episode where hikaru comforted haruhi while there was thunder. Wonder why she's sooo afraid of thunder though.....I also wonder if kaoru is gay,i read that he is but i don't know. I can't believe they sleep on the same bed!
Mitsukuni "Honey" HaninozukaEdit
I LOVE HIM!!!! He is sooo cute, one of thngs i love about him. I also love his friendship with mori. Shocked that they were related. Didn't saw the resemblance. I was also shocked that he was 17!!! He's looks like he's 4yrs old!!! But i still love him. He's my favourite character. I loved when he dressed as a girl... He looked more cute. Another thing i was astonished about was when he did karate...he kicked ass!!! I was soo proud of my baby..kids these days...sniff* sniff* they grow up sooo fast. I felt sad when he was denied his sweets....why they had to do that. I never expected him to throw mori soo hard on the floor and tell him he hates him. That was not nice but when i saw him crying i wanted to cry too. Do you know that he's the first of the group to get MARRIED!!! I wanted her to show in the anime but unfortunately she's in the manga only.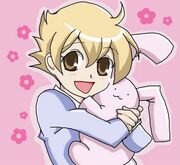 Takashi "Mori" MorinozukaEdit
When i first saw him i thought he was some cool guy in the animes that all the girl wants(well i am kinda right,all the girls do want him lol) but then i saw him hanging around this kid all the time and always being quiet , i then thought that he might be his personal slave lol but then i found out that he's his COUSIN!!! As you can see there is no resemblance between the two. After giving honey all that personal attention and turning down a girl who liked him ( well technically he didn't say anything and she just start assuming things) and also punishing himself when honey got that tooth cavity and when the girl told him that she knows who the special person is in his life i then confirmed that he was gay and is secretely inlove with honey lol. I have a wierd mind.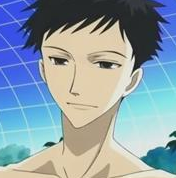 Renge HoushakujiEdit
Even though she's not really a main character i still love her. She was sooo funny especially when she started making tamaki and the rest of the host club except kyoya feel bad by calling them names. It was funny when she called honey a cute guy that is really a thug(or something like that) and haruhi a book worm that is being bullied lol. She cracks me up. I wanted her and kyoya to be together but the writer didn't like my idea for some reason.
Other photosEdit