Yuzuru Suoh is the patriarch of the Suoh family and the principal of Ouran Academy.
He is 48 and his hobbies are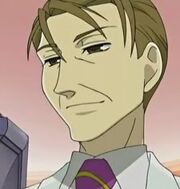 golf, theater and teasing his son. Yuzuru shares some of his son's characteristics. Despite knowing of his mother's loathing of
Tamaki
, he could do little to help the situation. To date, his only act of rebellion against his mother's wishes seems to be that he did not simply break off his relationship with Tamaki's mother, but instead divorced the woman his mother had chosen for him. In the anime he does seem to be a bit cold to Tamaki, though this might be to show that he does not favor his son as a student, as a scene in the anime shows photographs of Tamaki at different stages of life on his desk in his office. It also seems Tamaki gained his charms from his father.
Interestingly, Tamaki is very serious in Yuzuru's presence. The manga is a little different, showing Yuzuru as eager to tease his son at every opportunity, sending him red herrings in the middle of an investigation and telling tall tales.
It has been revealed (in volume 9) that Yuzuru knows where his wife is; it wouldn't have been hard for him to arrange for a reunion. What the father had in mind was the idea of having Tamaki surpassing him in terms of capabilities, so that Tamaki may inherit the Suoh empire, and force his grandmother to accept his mother.
Unwittingly, his kiss on Tamaki's forehead gave the teen the same idea, and he kissed Haruhi's forehead as a "paternal" gesture. In the last episode of the anime while the host club are enjoying the last night of the festival, Kyoya's father, Yoshio Ootori, was in his office at Ouran (the Ootori head states what his third son did to avoid the Tonnerres in accumulating their business), Yuzuru told Yoshio that they might as well be friendly to each other like their own sons, but after hearing from Yoshio that he is planning to have his son, Kyoya, marry Haruhi someday, he commented that they will never be friendly after all, hinting that he is planning the same thing for Tamaki and Haruhi.